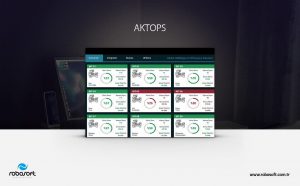 Factory Data Collection System for AKTOPS
Productivity and industrial reporting in factories are great importance, along with the progressive technology. Robosoft measures the efficiency of operator, energy, operation, fault analysis of about 60 machines with factory data collection system in Aktops project. Thus, it is for increasing the production capacity and provide more efficient performance of the machines from the past information. Also, you can integrate with Industry 4.0 and IIOT technology in the manufacturing company. All information is stored in the database along with the RBS Report software. You can view this information graphically and in tabular form.
With RBS Report, everything is easy
You can increase productivity by developing maintenance software suited to systems with RBS Report. Thus, spare parts, maintenance operations management and a lot of knowledge can reach the analysis can be done in this direction. With our factory data collection system, you can manage all your operations more effectively using your data.
In addition, you can develop artificial intelligence application with "Machine Learning" algorithms given in the cloud database. You can plan your forecasting, predictive maintenance and future visions.
Who is Robosoft?
Robosoft, can provide and maintain reporting systems and IT solutions for all industrial systems for industries. You can control all types of production processes with our software.
Robosoft is a solution partner that develops custom reporting and SCADA applications. The SCADA solutions developed by Robosoft, are compatible with a variety of systems, including web, mobile OS, and Windows. They provide special reporting tools. Robosoft, a Microsoft partner, uses the latest Microsoft products in its projects. RBS Report can collect data from any type of industrial system. You can record time-based data from tags at any time.