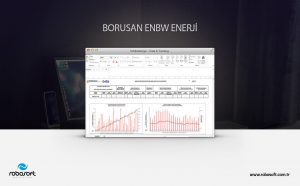 SCADA Reporting Software RBS Report
RBSReport V.2.1 is kind of SCADA reporting software, offered by our company, that can collect data on SQL Servers from all PLC, DCS and remote IOs in the industrial area. You can query reports and integrate them into report templates to create any report application you want. RBS Report and Kepware OPC, have a sub-structure of OPC DA and UA technology. RBS Report can communicate with all other OPC Servers but we recommend Kepware OPC Server for new users. You can get the reports of the systems in batch, daily, weekly and monthly basis and output your production and consumption reports through Excel file templates.
The SQL analysis tool allows for detailed analysis of the entire computing world, making technical analysis possibilities. You can design and query any time in Excel reports, history, and all registered data types. It allows you to query your analogue data trends as of the date and all registered data types. With OPC Data Logger package, your OPC data can also be recorded. It is possible to do a detailed trend analysis with the RBS Report. RBS Report has the ability to create reports, but normal SCADA software cannot make flexible reports. By integrating with cloud systems, you can develop artificial intelligence algorithms with the data you will integrate with Splunk or Elastic Search. RBS Report provides users with automatic posting and recording of reports. With the SQL Analysis tool, you can create SQL queries with RBS Report. Thus you can get more detailed information from your system.
Application of SCADA Reporting
We provide solutions on weighing reports, food sector reporting, tank level measurement reports, water and wastewater plant reporting, concrete plant reporting, energy sector reporting, and also HEPP and WIND Energy reporting applications and many industrial area reporting applications. Check RBS Report OPC Data Logger and Archiving Reporting software for detailed information.
You can also use RBS Report for WinCC excel reports. You can connect the WinCC OPC Server and log data on WinCC SQL Server. This way you can have a more efficient SCADA and reporting system.